Please click on the image for details and price.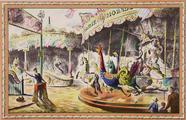 The Fairground . 1945

Biography
Barbara Jones studied at the Royal College of Art from 1933-193&, following in the footsteps of Bawden, Piper, Ravilious and other R.C.A. graduates who formed such a distinctive group in the history of English 20th century art. A painter, designer, muralist, illustrator and author, Jones was a pioneer in the field of popular culture, as her book 'The Unsophisticated Arts' demonstrates. This book and the 1951 exhibition of British Popular and Traditional Art which she organised for the Whitechapel Gallery, had a significant influence on the work of some of the 'pop' artists of the 1950s and 60s, including Peter Blake. Jones' watercolours included in the 'Recording Britain' project of the 1940s are all now in the V&A's permanent collection. Her book 'Follies and Grottoes' (1953) is also a well-known work, being the first comprehensive survey of the architectural follies of this country.