Please click on the image for details and price.

Dream Landscape with Lake. 1954

In Africa. 1954

Mother and Daughter. 1979
Mother Love in Water. 1947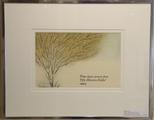 Three Chance Survivors. 1976
Biography
Writer, poet, printmaker, painter, Cox is best known for his remarkable Gogmagog Press books. Cox at the age of 13 received a scholarship to West Ham School of Art where he trained for six years. In the late 1920s he worked in advertising, but disliking the job, he turned to printmaking, painting, designing book jackets, writing novels & poetry, and briefly running a shop in Sicilian Arcade selling only his own work. Although his short stories and a collection of poetry were published commercially in the 1950s, Cox in 1957 set up the Gogmagog Press, resolving to print his own work in his own way thereafter. 35 highly original, beautifully illustrated, hand-made limited edition books followed between 1957 and 1983. In 1991 a bibliography and appreciation was published: 'Morris Cox and the Gogmagog Press,' Private Libraries Association. Cox also produced colour linocuts from 1930, and painted in oil and watercolour for over 60 years. In 1994 the Victoria & Albert Museum held an exhibition to celebrate their acquisition of Cox's personal archive of Gogmagog books and early colour prints. Katharine House Gallery held a substantial and successful exhibition of Cox's paintings, prints and books in 2005.