Please click on the image for details and price.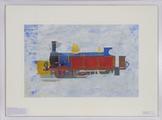 Steam Locomotive. c. 1950s
Biography
A painter, mural artist, print-maker and illustrator, Kempster studied at the Wimbledon School of Art under Gerald Cooper (1937-39), then at the Royal College of Art (1939-42) where his teachers included Percy Jowett and Ernest Tristram. Kempster's career included a great deal of exhibition work, and he undertook mural and poster commissions for, among others, the Central Office of Information, Miner Comes to Town Exhibition, Health of the People Exhibition, Post Office Exhibition and the Festival of Britain 1951, illustrating aspects of British life and work. He also contributed to numerous periodicals including Future, Lilliput, Leader, The Mirror and The Echo.