Please click on the image for details and price.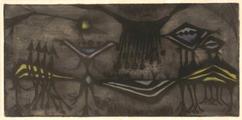 Landscape: Birth of a Flower. 1951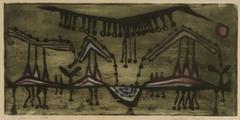 Landscape: Death of a Flower. 1951
Biography
Clarke studied at Preston School of Art (1940-1) and Manchester School of Art (1941-2) before serving in the War with the RAF. He returned to his studying at Lancaster and Morecambe School of Arts & Crafts (1947-8) before attending the Royal College of Art in 1948, where he remained until 1952. In 1951 he was awarded a Royal College Travelling Scholarship and also received the silver medal at the Milan Triennale for a collaboration with Robin Day, the furniture designer. He returned to the Royal College in 1968 where he was Head of Light Transmission and Projection Department until 1973.

Clarke's first solo show was held at Gimpel Fils Gallery, London 1952, the same year in which his work was included in the Venice Biennale. In 1965 he had a retrospective at the Redfern Gallery, London and his work was included in 'British Sculpture' in the 1960s exhibition at the Tate Gallery. Similarly, he was selected for 'British Sculptors '72', at the Royal Academy of Arts and for 'British Sculpture in the Twentieth Century', at the Whitechapel Art Gallery,1981.

Most of Clarke's work was commission-based, cast in a foundry in a barn at his home in Suffolk.