Please click on the image for details and price.

Organic Form:
grey & beige. c.1965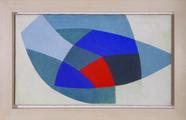 Red Segment. 1960s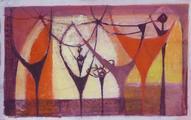 Sunset over Crop. c.1960

Biography
Painter, silkscreen printer, textile designer, mural painter and writer of children's books. Guthrie studied at the Slade School under Henry Tonks and at the Royal Academy Schools. At the Slade, she was influenced by Stanley Spencer's 'The Nativity', then in the late 1920s by the French Impressionists as well as other styles. She was married to the artist Robin Guthrie, and after divorce, to the Constructivist painter Cecil Stephenson. Her style was further modified by Stephenson's influence and associated with the avant-garde of Hampstead. (Her early work is signed K. Maltby, her maiden name.) She exhibited widely including a one man show at Wolf Mankowitz Little Gallery and the Crane Gallery, Manchester. Guthrie began to move from pictures with a more whimsical, poetic feeling, towards pure abstracts. She illustrated successful children's books including 'The Magic Button' and 'Magic Button to the Moon', which contain short poems by her.