Please click on the image for details and price.

Father and Child. 2018

Grower II. 2019

Mother and Child. 2017

Restrained. 2018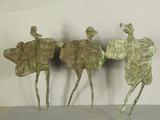 Siblings. 2018

Strangers Not Strangers I. 2020

Strangers Not Strangers II. 2020
Biography
Neil Wood is a professional sculptor and fine artist with over 20 years experience and many years experience teaching and lecturing in fine art and sculpture. His creative output varies from the purely abstract to the naturalistic, but always with an emphasis on quality. His work is often experimental, exploring formal qualities and visual language as a means of expressing often complex ideas about the world we inhabit and the nature of human experience.

Neil's work ranges from small gallery pieces to large scale public and corporate commissions. He has worked in various settings: in education, as Artist in Residence and visiting lecturer.

In recent years his practice has concentrated on the human form, expressed in a semi-abstract way by constructing and manipulating steel, stainless steel and bronze. Recent work has seen a return to the more traditional methods of modelling and casting alongside his work in metals.