Please click on the image for details and price.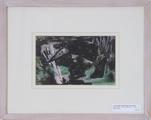 Night Shapes. c. 1961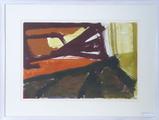 Untitled. Early 1960s
Woman in an Exotic
Garden, Malaya. 1948
Biography
Alexander Robertson studied forestry at Edinburgh University and attended evening classes at Edinburgh College of Art. After studying at the Academy of Fine Art, Florence (1959-60), he returned to Scotland to paint full-time. A group of pictures shown at the Royal Glasgow Institute won favourable reviews and Robertson gained a Scottish Arts Council grant for a first solo show at the Citizen's Theatre, Glasgow, 1964. In 1965 he moved his young family to Norfolk in order to set up a Community of Artists at Crow Hall, Downham. Group exhibitions of paintings by Robertson and other Crow Hall artists were held at the University of East Anglia and at Peterborough Art Gallery in 1967. From 1968 Robertson embarked on creating environmental installations, working with movement, light and sound, with an exhibition 'Visual Fair' at the King's Lynn Festival. In that period he also moved into the field of sculpture with painted wooden constructions which were shown at the Arts Council Gallery, Cambridge. After a move to Sussex in 1969 Robertson continued showing regularly, one-man exhibitions including Worthing Art Gallery, 1972; Southampton University, 1973 and 1976; and the Arts Centre, Christ's Hospital, Horsham, 1978. After his death at 53 there were two major exhibitions of Robertson's work: at Southampton Art Gallery, 1982, and a comprehensive retrospective at Talbot Rice Gallery, Edinburgh, 1986.