Please click on the image for details and price.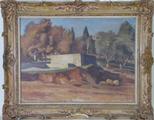 Landscape with Figures. c. 1920s
Biography
Jean Marchand was a French Impressionist, Modern and cubist painter, printmaker, illustrator, engraver and designer who had associations with the Bloomsbury Group. He was born in Paris and where he studied at the École des Beaux-Arts, 1902–9 and exhibited in the Salon d'Automne, Salon des Indépendants and the Section d'Or.

In 1910, his painting Still Life with Bananas was exhibited in the 1910 "Manet and Post-Impressionism" show organized by Roger Fry. It was also shown in 1912 in a second exhibition organised by Fry with Clive Bell at the Grafton Galleries in London.

Marchand's work was notably acquired by the collector Samuel Courtauld. Paintings by Jean Marchand are in the collections of the Courtauld, the Tate, and in numerous regional museums in the UK (Manchester, Gloucester, Cardiff...) and wordwide. The National Gallery of Ireland owns 5 oils by the artist.