Please click on the image for details and price.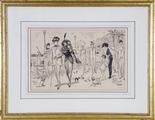 The Latest Things in Pets at Monte Carlo. 1913

Biography
Lewis Baumer was a versatile artist who developed strong reputations as both a children's illustrator and a Punch cartoonist. He was born in St. John's Wood, London in 1870 and educated at University College School, Gower Street. Encouraged by his parents to become an artist, he studied first in 1887 at St. John's Wood School of Art under A. A. Calderon, alongside Byam Shaw and Rex Vicat Cole. He then went on to the National Art Training School, South Kensington, and the Royal Academy Schools. He exhibited widely from 1892, but soon became better known as a black and white artist and illustrator, contribution illustrations to The Pall Mall Magazine (1893) and other magazines.

In 1897, Baumer established himself as an illustrator of children's books, publishing Jumblies to his own text, and Hoodie, his first collaboration with Mrs. Molesworth. In the same year, he published a cartoon in Punch, and would become a regular contributor over five decades.

"...[Baumer] was in a way the leader and certainly the most popular of the social commentators, using 'social' in the old rather than the new sense... his tennis-parties and tea dances and bright young things and crusty old men and carefully-reared children depicted on aspect of one movement in history as completely as [John] Leech depicted another... he was capable of real comic invention. " - R. G. G. Price 'A History of Punch', London: Collins 1957.

As a painter, pastellist and printmaker, Baumer became a member of the Pastel Society (by 1908) and the Royal Institute of Painters in Water Colours (1921). He also belonged to the Langham Sketching Club, the Arts Club and the Chelsea Arts Club.

He lived in St. John's Wood for most of his life and died in October 1963.