Please click on the image for details and price.

Anita with Male Presence. 1957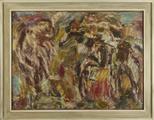 Beethoven Abstract. 1957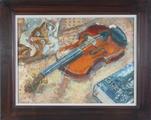 Cat, Violin and Sylvia Plath Book. c. 2003

Fitou Still Life. 1997
Frieze 2. 1999

Gemlik, Sea of Marmara, Turkey. 1964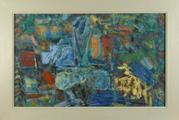 Happen Horse Extinct. 2009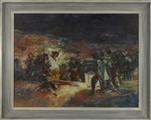 Homage to Goya's 'The Third of May 1808'. c. 2003

Kitchen Table. 1983

Lent. 1957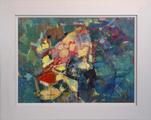 Little Sun. 1999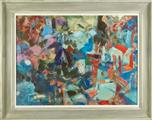 Metropolis. 1999

Oedipus and Jocasta. 1963

Space. 1990s

Untitled abstract. 1998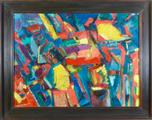 Untitled abstract. Late 1990s

Untitled abstract. 2003 (reworked 2011)
Biography
Born in Wales, Lewis studied at Cambridge in the late 1950s following a period of National Service. After the death of his father in 1959 he was encouraged by a maternal relative, Myfanwy Piper, to pursue his preferred option of art. He entered the Slade School of Fine Art in 1960 through the intervention of Myfanwy's husband, John Piper, who showed Lewis's promising work to the Slade's principal, William Coldstream. Encouraged by fellow Welshman Ceri Richards, Lewis evolved a 'kitchen sink' feel for the simple poetry of humble surroundings.

In the late 1960s Lewis left London for his native Wales, teacher training and the security of a teaching job in the Rhondda. A rustic naturalism and gentle expressionism entered his work in response to the new environment. On retirement in 1996, Lewis moved to Bath where he continued to work and exhibit in mixed shows.