Please click on the image for details and price.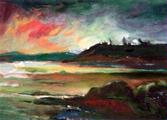 North Devon: Radar Dishes. c. 1970s


Tor. 1951

Untitled abstract. 1965

Biography
Fishwick studied at the Liverpool School of Art before and after WW2, and in 1947 moved to Devon and began teaching at Exeter College of Art, becoming Principal of the College in 1958. He had his first one-man show in London at the St George's Gallery in 1957, followed by many others including at Dartington Hall, Devon, 1959, Plymouth City Art Gallery, 1966, and two major shows with Austin/Desmond Fine Art in 1989 and 1990. Fishwick was a friend of the St. Ives painters (Peter Lanyon, Paul Feiler and Trevor Bell) and he exhibited regularly with the Newlyn and Penwith Societies. Retrospective exhibitions were mounted in Plymouth and Exeter following his death in 1997.