Please click on the image for details and price.

65. Bird Charmers.


Horse and Rider. 1968

Maiden and Mirror.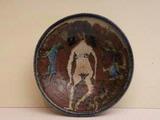 Nude and Blue Fox. 1979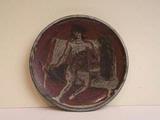 Seated Nude. 1969

Biography
Although known as one of the finest British studio potters of the 20th century, Mellon originally wanted to be a painter. At the age of 13 he won a place at Watford School of Art and began a traditional art education based on the study of drawing and aesthetics. From 1945 he studied painting and printmaking at the Central School of Arts and Crafts but began to work increasingly as a potter from 1951. He has held numerous exhibitions of paintings, prints and ceramics from the 1960s onwards. Mixed shows include Worthing Art Gallery (1965), Chichester Museum (1966), Kettles Yard, Cambridge (1971), V. & A. Museum (1972 & 1994) and dozens of others. Solo shows were held at the Commonwealth Institute, London (1969, 1971 & 1973), The Camden Institute, London (1975), Paul Rice Gallery, London (1984), Beaux Arts, Bath (1991), Primavera, Cambridge (1998) and a Retrospective Exhibition at York Museum (2000). Mellon's work is included in the collections of the Victoria and Albert Museum, Ulster Museum, Towner Art Gallery, Eastbourne and many other public and private collections.